WE DO NOT CURRENTLY OFFER REMOTE COMPUTER REPAIR OR TECH SUPPORT SERVICES.

PLEASE CHECK OUR PORTFOLIO FOR WEB DESIGN AND WEB HOSTING SERVICES.
Mission Statement
To efficiently provide individual and business clients with the highest quality computer and technology services at the most competitive prices with integrity.
About AnnexTech
AnnexTech provides complete solutions for home and business technology needs. Services include repairs, setup and installation, troubleshooting, maintenance, tutorials and much more for computers, networks, smartphones, tablets and various other electronic and technology-related products and devices.
We also provide web design and hosting solutions for a dominant web presence. If we do not currently offer a solution to your need, we will help you find one!
We've worked for the big retail chains and have witnessed first-hand the lack of true care and customer service. We believe our customers deserve respect, care and our commitment to get the job done and done right. We refuse to employ systems and policies to protect our image at the cost of our integrity and our customer's satisfaction.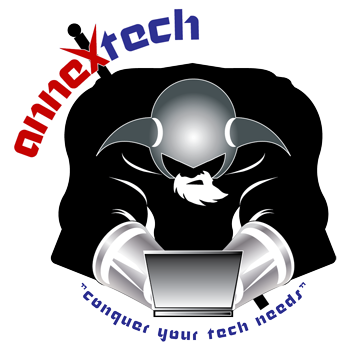 Featured Services

In a world with such an emphasis on the internet in almost every aspect of our daily lives, we can&t always be as safe with what we click on or download. We know, we know! You thought it was an e-mail from grandma. Or you thought you really won and were downloading a free video game or movie. We get it. We really do. But why allow your computer to continue running so unsafe and sluggish? Our technicians can get you back up and running. And with the lowest prices in the industry, there is no reason not to!

Whether you want a new wireless or wired network setup or an existing network configured, our experienced technicians can setup your network to perform at its best and make sure you are secured, password protected and as safe from hackers and other internet threats as possible!

Computer running slow? Let the experts at AnnexTech speed it up for you. We start by removing unneccesary toolbars from your browser and then uninstall unwanted and unused programs. Next, we tweak and configure the programs and processes that start with your computer so that only the necessary things load at bootup. Finally, we do a disk cleanup--removing all of your junk and temporary files--and follow it with a disk defragmentation and *complimentary quick virus & malware scan!

*Quick virus & malware scan does not include removal. Additional fee applies for repair.
Testimonials
" We had a virus on our computer and were about to buy a new one. A friend recommended AnnexTech, so we called and setup an appointment. Clark came out and spent a little bit over an hour working on our computer. Watching him work the buttons on the computer was like watching an artist gracefully paint a canvas. By the time he was done, the virus was gone and our computer was running faster than ever!"

- Daniel & Rebecca Caruso
" I purchased a brand new laptop and wanted to use it wirelessly, but I&m not technical at all. I called AnnexTech and in about two hours I had my wireless router setup. My network is secured and my new laptop is wireless! But what really made me happy was when Clark noticed my printer had wireless capability and set it up to print wirelessly as well! Such attention to detail!"

- Jason Ruiz